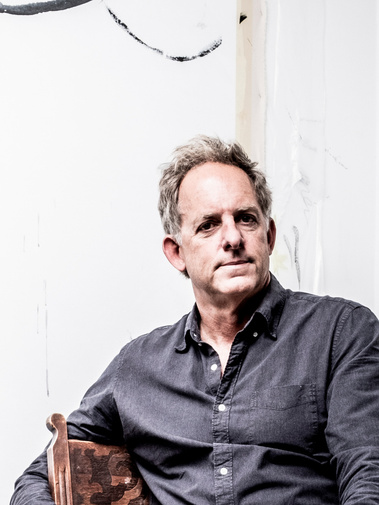 What does the essence of a personality, character, or spirit look like? Rooted in drawing, I use line and form to depict living entities' innate individuality and imperfection. The images are my environments, sometimes imaginary—an interpretation of what's above and beneath the surface of the surrounding forest in Mendocino County. The resulting compositions are essentially profiles of character found within the terrain, biosphere, or people.
Toby Hill (b. San Francisco) is an artist based in Anderson Valley, California. He studied art at California College of the Arts, where he earned a bachelor of fine arts degree, and the School of Visual Arts in New York where he studied under New Yorker cartoonist Sam Gross. He has extensive experience as an architectural colorist and color plaster artisan in San Francisco, including projects at the Asian Art Museum and Yerba Buena Center for the Arts. His current artistic practice has been informed by his vast artisan professions, including 17 years as a small-batch winemaker.
CV
Lives and works in Philo, CA, with a Studio in Ukiah, CA.
Education
California College of the Arts, BFA 1992
School of Visual Arts, NY 1983

Exhibitions:

2022 "Night Garden" Gallery 60Six, San Francisco, CA. Pop Up Group Show

2021 "Unveilings" Lansing Street Gallery, Mendocino, CA. Grand Opening, Solo Exhibition
2021 Medium Gallery, Ukiah, CA Group Exhibition
2019 "Ink and Iron" Phillips Hill Winery, Philo, CA,

1996-2000 "The Point" Open Studios, Hunters Point Shipyard, San Francisco, CA
1998 Mural for office lobby, 100 California Street, San Francisco, CA SMWM Architects
1993 Live Work Storefront Exhibition, 451 Cortland Ave, San Francisco, CA
1992 "Mondo Materials," Group Exhibition developed by Steelcase Design

1988 "Art Against Aids," Phyllis Kind Gallery, New York, NY. Group Exhibition
1988 "13 over 13" Sag Harbor, NY, Group Exhibition. Curated by Susan Rush. Review by Robert Long, East Hampton Star
1988 "13 over 13" Watermill Museum, Watermill NY, Group Exhibition. Curated by Susan Rush

1988 "Twenty Under Thirty" Wunsch Art Center Glen Cove, NY. Group Exhibition. Review by Karen Lipson, New York Times
1987 Sculpture Center Gallery, Small Works, New York, NY
1987 D.U.M.B.O. Art Under the Bridge Festival, Group Exhibition, Brooklyn, NY
1986 Rubio Gallery, 463 West Street, NY, NY. Shared exhibit with Martin Rubio.


Professional Experience
2005 – 2022 Winemaker, Phillips Hill Winery, Founder, Owner, Philo, CA
1997 – 2008 Architectural Colorist, Plaster Artisan, Stonehenge Studios Inc, Owner, Hunters Point Shipyard San Francisco, CA